StereoDelta. The magic happens inside.
StereoDelta is an easy to use spatial processor, available as AAX/AU/VST/VST3 plug-in, with one powerful knob to control your stereo image. From true mono to three dimensional width, StereoDelta always maintains a natural sound thanks to DrMS technology inside.
 Demo
All installation and authorisation info is included with the Demo License download.
Requires a free PACE iLok account .
An iLok USB dongle is NOT required.
 Purchase
Also add
DrMS
and
save 15%
!
Or subscribe to the Spatial Processor Pack:
Some might find the power of the critically acclaimed DrMS plug-in a bit overwhelming. This is where StereoDelta comes in:
One knob controls several parameters of the advanced DrMS algorithm inside at once. Well chosen internal parameter combinations make StereoDelta a flexible and creative tool for instant high quality useful and unique results.
 Technical
For OSX 10.7 and up / Windows 7 and up,
supporting AAX/AU/VST/VST3 plug-in formats
Dongle-free 'Host Computer' authorisation
(optionally use a physical iLok USB dongle)
Dual Activations: use 2 computers or iLoks
StereoDelta features
Leading spatial audio processing
based on the acclaimed DrMS plug-in

Powerful single knob control
from true mono folddown – save stereo info in mono! – to larger than life stereo
with one simple turn

Not just wider
deeper, more open, more real
the ultimate mix glue
Mono to Stereo
easy to use upmixing

Full mono compatibility
no surprises on any playback system
Internal Autogain
for easy level matched A/B comparision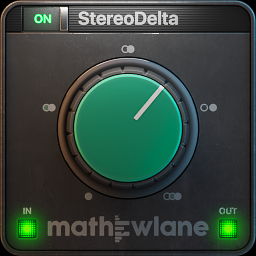 Videos
Below are a few examples of some specific StereoDelta uses, from the great tutorial videos by Sean Divine.